By PenTales Pundit Elise Nardin, Zurich, Switzerland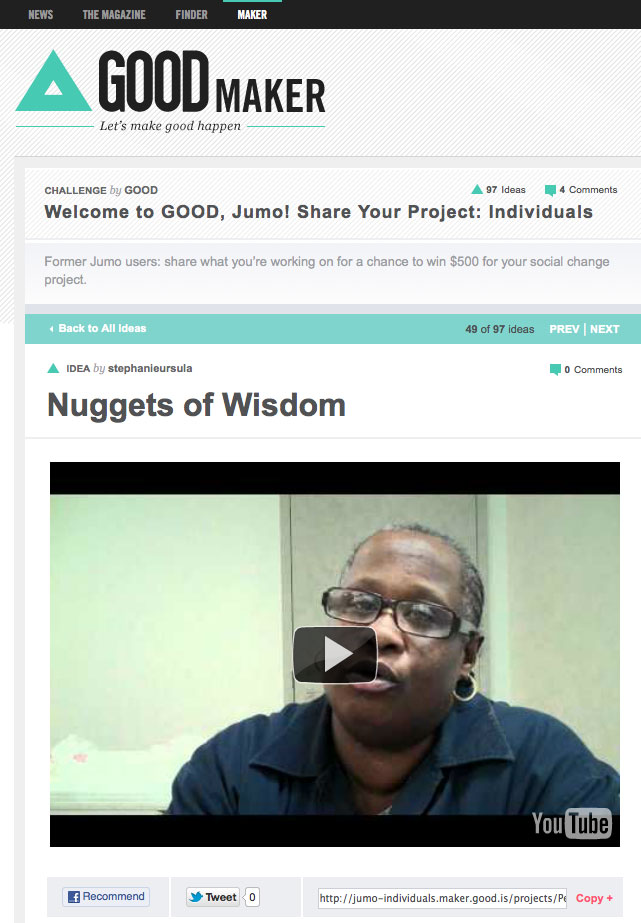 Dear PenTales friends and supporters,
(if you are in a rush, just check out our submission to the GOOD contest and take a moment to vote and comment!)
A little less than two months ago, we launched the Life Lessons project with the goal of building an arsenal of advice for all of humanity to contribute to and benefit from. We were looking forward to hearing your nuggets of wisdom, but we didn't quite realize how much you've all lived and how wise you've become along the way. Thank you so much for sharing!
So far, we've received and featured 28 life lessons (read / watch them here!). Nuggets of wisdom range from youngins in their early 20s to the seasoned in their sixties and beyond. Lessons range from "forgiving and forgetting," to "knocking on doors." We've crossed continents with pearls of wisdom from Canada, the UK, Switzerland, the US, and we hope to have a five continent collection before London2012, right on time for the Olympic Games.
So, here's the big news with Life Lessons today: We're thrilled to tell you that our little project has been selected for the GOOD, Jumo Individuals Challenge! (No small feat, thank you very much!)
GOOD Maker and Jumo recently combined forces to help people have a meaningful impact in the world. They offer $500 dollars to the winner. We truly believe that the Life Lesson project can do good. If we won the GOOD Maker award, we'd print stickers for every person who shares a nugget of wisdom with the PenTales community. The sticker would say something like: "My Nugget Makes the World Wiser." Each person (you!) would receive 3 stickers so they could encourage others to contribute to the project as well.
Here's how you can help us sharing your nuggets of wisdom and collect as many votes as possible:
1. Click on our submission profile here
2. Click "Vote for this Idea" to vote for us before April 17th noon PT. Each person gets one vote. ZIP code must be 5 digits long.
3. Comment on the discussion form below the project description. We'd love to know what you think about it!
4. Spread the word (using the handy sharing buttons below) with your friends. Let's get wiser together!
Thank you so much for your support! We will keep you posted on the challenge until April 17th.