By PenTales Pundit Elise Nardin, Zurich, Switzerland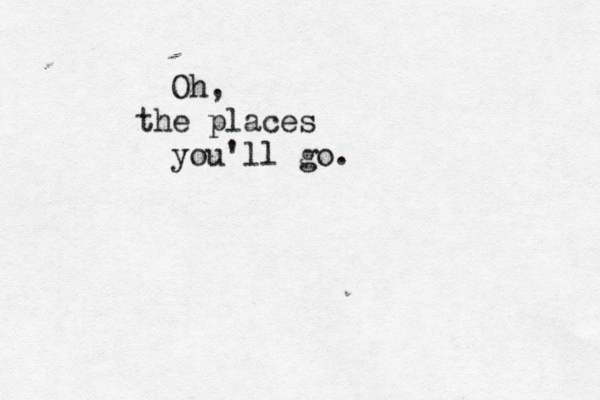 I love books, especially children's books. Young audiences are demanding – their attention spans is short. So, within just a few pages, the stories need to convey great messages. I recently visited the kids literature section of a local bookstore in Brooklyn and I picked a book I had wanted to buy for quite some time: Dr. Seuss 'Oh, the Places You'll Go'. I didn't graduate from a US high school nor college, where it is a custom to receive a copy from your parents. Home, there's no such 'threshold-passing' gift. Now, three years after my own graduation – and a serious leap into adulthood – I finally got to read it. It felt like reading 'The Little Prince' by French writer/aviator Antoine de St-Exupéry for the first time. It's one of these books you can read at any age and get something out of each time.
Dr. Seuss faces us with our fears, joys, expectations. The second-person narrator (you!) tells us that whatever you do, you will be alone most of the time. Ups and downs, tough times await you. But it will be ok. In the 1978 'I Can Read With My Eyes Shut!', there is a take about learning and experience.
'The more that you read,
The more things you will know.
The more that you learn,
The more places you'll go.'
…the more you'll want to venture out "ready for anything under the sky", good or bad. Maybe his life lesson is about venturing out, not stopping at "The Waiting Place…for people just waiting."
Dr. Seuss wrote 'Oh, the Places You'll Go' one year before his death. It's 86 years of wisdom concentrated in a single book. Some of you own the book, some don't. If you haven't read it yet, I recommand you to watch / listen to 'Oh, the Places You'll Go' read in video here. Did your parents read it, or your grandparents? How do they reflect on it now? Shoot us an email, we'd love to hear! Because Life Lessons is also about the places you went and the wisdom you learned from on these different adventures.
'Kid you'll move mountains
So…Be your name Buxbaum or Bixby or Bray or Mordecai Ale Van Allen O'Shea,
You're off to great places!
Today is your day!
Your mountain is waiting.
So…Get on your way.' (Dr. Seuss, Oh, the Places You'll Go!, 1990)