By PenTales Pundit Elise Nardin, Zurich, Switzerland
Refreshing blog, Advanced Style, features 'advanced' fashionistas and celebrates the love of fashion and great taste encountered on the streets of NYC, Paris or Milan. All the ladies and gentlemen photographed by Ari Seth Cohen prove to have the uttermost taste in fashion. They also share their nuggets of wisdom, whether it is never going to bed with make up on or realizing what you have. Going through the posts' archives, one struck me for its singularity.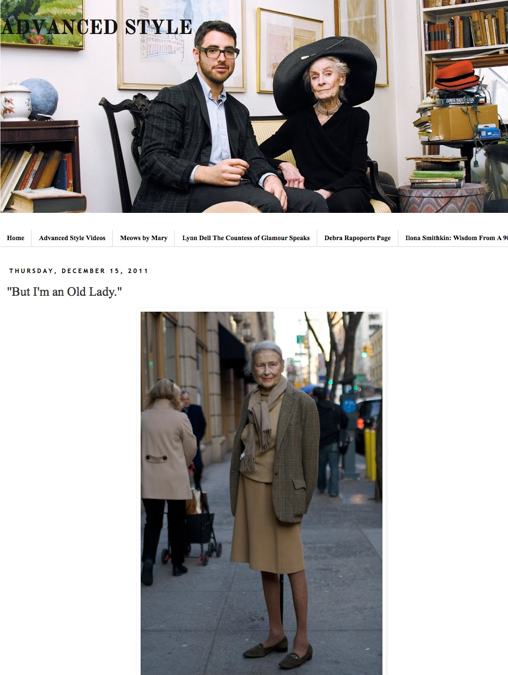 Why would a younger generation be interested in 'an old lady'? As Ari Seth Cohen says: "I don't want my photos to be spectacular and original, in fact I want them to get so familiar and boring that we all get used to looking at age in a new light. Maybe if we shift our attitudes towards getting older a little, the ladies I meet will start replying "But of course, I'm an Old Lady" instead." "
His posts show us that it's about looking at age from a different perspective and celebrating older women and men. Giving older generations a voice is empowering them by valuing their experience and their wisdom. Seniors have their own words of wisdom on family, fashion, career, love, etc. Do you live by words of wisdom your grandparents or parents told you? If so, shoot us a "Life Tips" email today at writepentales@gmail.com with a tip or a motto you live by. And, if you're a senior, make your voice heard, we would love to feature you on PenTales!